Looking for the best restaurants in NOLA just became a lot easier.Here are the top 10 best restaurants in New Orleans.
With the Big Easy being one of the food meccas in America, it can be a little overwhelming knowing which restaurants are a must-try, especially if you're staying there for a limited amount time (and you don't exactly want to waste precious gut space). After researching potential restaurants in advance and asking locals, I narrowed down my picks and listed the 10 best restaurants in New Orleans. Here are the first five:
Deanie's Seafood
Cuisine: Seafood, American (Traditional)
Famous for: Oysters, crawfish
This restaurant has been serving Louisiana seafood for over 50 years, with their seafood prepared in their signature Creole seasonings. It's a local favorite particularly for their crawfish. I tried their po-boy and really enjoyed it, especially the fried oysters. Their dishes come in large servings so there's a chance you might take some food home with you. Be prepared when locals eye your to-go box though– I've had a couple of people jokingly ask where their share was.
Lüke
Cuisine: French, German, Cajun/Creole
Famous for: Shrimp and grits, Brendan's bread pudding
There was a time when Franco-German brasseries reigned in New Orleans. Lüke pays homage this type of setting by utilizing slow and traditional cooking for its Old World cuisine, only this time with an emphasis of locally sourced seafood. The restaurant is known to offer a selection of Belgian, French, and German beers as well as their own house brews. I skipped the drinking and went straight to their food to try their Shrimp and grits. Served with roasted jalapeño cheese grits and Andouille sausage, this jumbo shrimp dish makes a hearty meal! Save room for dessert because their bread pudding is a crowd favorite, too. The hot buttered pecan sauce paired with cool vanilla bean ice cream makes a great cap to an evening meal.
Muriel's
Cuisine: Cajun/Creole
Famous for: Pecan crusted puppy drum, Bread budding
At the heart of Jackson Square sits this seafood gem. Muriel's is probably my favorite restaurant in this list not only because it embodies New Orleans culture, but it also serves the best fish dish – the pecan crusted puppy drum. Do not miss out on this! It is crunchy and nutty on the outside while moist and flaky on the inside. It is served with Louisiana crabmeat relish, laced with a lemon butter sauce, and its absolutely delicious. I think this would be the epitome of contemporary Creole cuisine. Did I mention to save room and try their bread pudding? Oh right. Apparently Lüke and Muriel's were both right on the money with dessert. You can also try the carrot cake ice cream sandwich. The creole cream cheese ice cream and fresh pineapple cream make for a sweet option especially in the summer.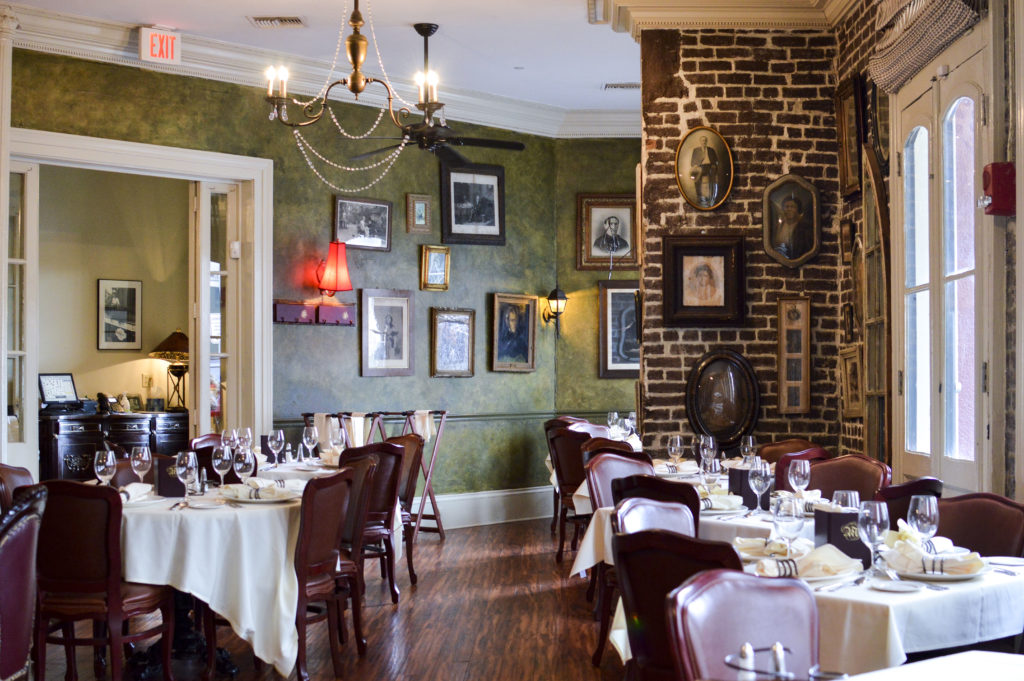 Galatoire's 33
Cuisine: Steakhouse
Famous for: cocktails and steakhouse fare
Sometimes all you want is a decent steak. In New Orleans, I found that in Galatoire's 33, the sister restaurant of the famous Galatoire's. The restaurant has a very luxurious setting with its dark wood and leather interiors, crystal chandeliers, and dark green painted walls. Its regal atmosphere only makes for an enjoyable dining experience over fine cuts of USDA prime beef. I highly recommend the ribeye!
Orleans Grapevine Wine Bar and Bistro
Cuisine: Wine bars, American (New)
Famous for: Baked brie with garlic, mussels
And then there's Orleans Grapevine. Housed in a prestigious two-story building, this restaurant was home to the first Creole restaurant in Nola. Today, it still captures the ambiance back in the old days with some of its original dirt floors from the 19th century still intact. The Orleans Grapevine has the largest selection of wines in the French Quarter so I'm sure you wont be left dry. I thought a glass of wine with the ambiance was enough to enjoy the evening but do give the mussels and the baked Brie a try for a relatively lighter meal.
Stay tuned for the other half of my top 10 best restaurants in New Orleans! It'll be a sweet treat 😉
Thanks for reading!
SaveSave
SaveSave